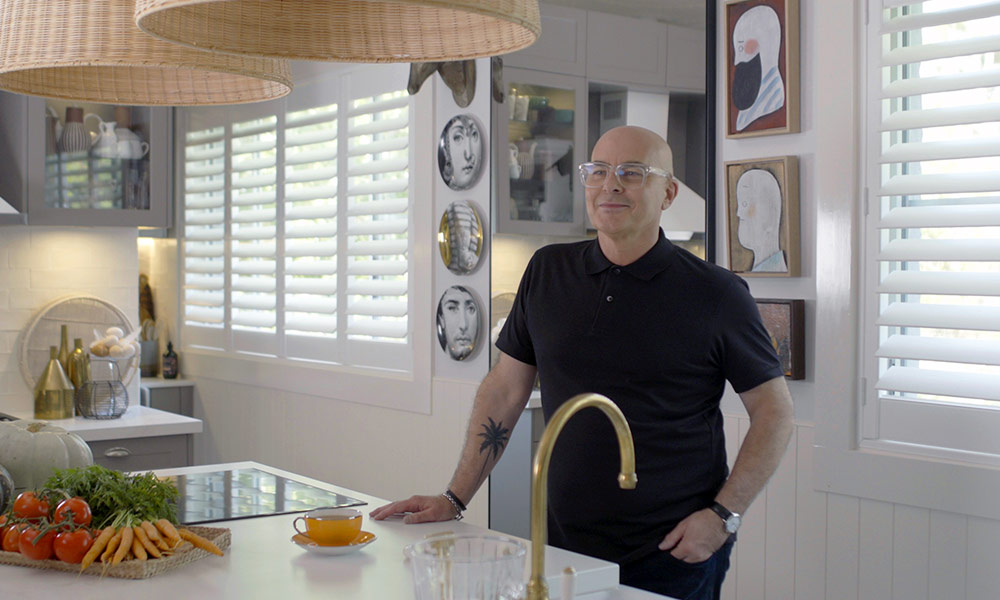 'Ever since moving to Australia more than 20 years ago, I've been in love with our light. It has a different quality to any light I've experienced elsewhere in the world. Compared to the flat light I grew up with in England, Australian light has a brilliance, an intensity and clarity that makes colours seem brighter and more vivid. More alive. But with that brilliance – and the extreme temperatures that often accompany it, especially in summer – comes a need to control and harness light in order to make our lives more comfortable.
At our home on the NSW south coast, my partner and I have experienced extremes that demonstrate the ferocity of the Australian climate. We may be just two hours by road from Sydney, but summers are hotter than in the city and winters are colder. We even seem to get spring and autumn! And that amazing light, providing a spectacular daily show with the ever-changing colours of the hills and paddocks. Given that our home is a single-storey cottage dating back to the 1930s, it was important for us to choose window coverings sympathetic to the age and heritage of the house, whilst providing innovative light and temperature control.
For our kitchen, laundry and home office (all windows running along the same side of the house) we chose Luxaflex PolySatin Shutters in white that allowed us to combine classic style with modernity and functionality. These plantation-style shutters have always been a design go-to for me, as they're timeless and complement almost any interior style. PolySatin Shutters have a tactile matt lustre and are made from a durable polyresin compound that makes them ideal for wet areas like kitchens, laundries and bathrooms.
On a practical note, we loved that the shutters are made in Australia by people who understand our climate – and which also means shorter lead times – and are backed by a 20-year warranty. Our shutters will allow cooling breezes in during summer, but welcome insulation in winter.
In our guest bedrooms, we opted for Luxaflex Pirouette Shadings that blend the look of sheers with the functionality of blinds, and a silhouette reminiscent of shutters, thus providing continuity of style both internally and externally. What we love about our Pirouette Shadings is their versatility. Fully opened they allow us to enjoy the magnificent country views, but they can be adjusted for a soft-focus view or closed for privacy at the touch of a button on the PowerView Pebble remote.
All of our Luxaflex window coverings are controlled by PowerView Motorisation that adds cutting-edge technology to classic design, not to mention the luxury and convenience of control through the Pebble remote or via the PowerView App on iPhone or iPad. The app allows us to set customised 'scenes' for our window coverings that respond to the changing light throughout the day. We can even control them from a distance when we're away – adding security to the impressive list of benefits. To me that is seriously sophisticated design!'
Neale Whitaker has edited some of the most respected lifestyle magazines in the world, including Vogue Living, Vogue Entertaining Travel, Belle, Delicious and Food Illustrated. Neale is also a weekly columnist for News Corp's Stellar in the Sunday Telegraph (NSW), Sunday Herald Sun (VIC) and Sunday Mail (QLD).
His extensive knowledge and experience have made him a respected and popular media personality in Australia. In 2019, Love It or List It Australia returns for a third series, and The Block for Neale's 12th season with the show.